Gabe LaViolet

Information
Full Name

Gabe LaViolet

Gender

Male

Resides in

Seattle, Washington

Occupation

Student, Singer

Eye Color

Brown

Hair Color

Brunette

School
Affiliations

G's (band)

Portrayed By
Gabe
LaViolet
is a high school rocker who is the in the band The Gs (with Gavin), of which he is the lead singer of his band. He is played by
Atticus Dean Mitchell
. Due to his selfish attitude, he tears the band apart
Personality
Edit
Gabe is a rocker who loves to play music and wants to become famous. When the band became more popular, tensions rise between him and Gavin (who is scared of making it big and not as committed to the life of a star) as they seek to take the band in different directions. He becomes more committed to the vision of the band, he adopts an even more rockstar style attitude, performing music that he knows is good. His band mate Gavin sacrifices the future of the band when he decides to perform music with a so-called message. Gabe continues to rock with no apology in spite of Gavin's failure to participate in the creation of good music.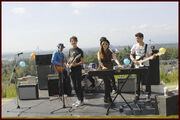 Gabe has been interested in music for a long time and very close with his bandmates. His dream is to become a famous rockstar, a dream that is obviously the most important thing anybody could ever accomplish in their life.
When the band's fame increases Gabe's best friend, Gavin, begins to lose his mind. Gavin is obviously not intelligent enough to understand that his so called "messages" make no sense at all. The band's fans clearly wanted the band to follow the path that Gabe created for it. However, Gavin's delusionality continued to derail the band's future, leading to its demise.
He is also seen following Radio Rebel's advice. At the end, he goes to the Morp/Prom, during which he made up with Gavin by joining him onstage. He was obviously the bigger man in this situation.
Relationships
Edit
Gabe and Gavin have been very close friends for life. They both are together in the band The G's. Early on, Gabe encourages Gavin to pursue Stacy while hiding his own affection for his friend. Unfortunately, when their band grows in popularity, tensions rise between the two as they struggle to separate their feelings from their visions for the band's future. Both start to question their friendship ... and wonder if it is something more. This culminates in Gavin quitting because he cannot handle Gabe's ego or the latter's dislike of Tara.
She might be a future love interest of him as they are seen dancing together at Morp.
Gabe is very dismissive of Tara and tries to keep Gavin away from her, claiming it is because she's not the type of girl they should associate with. It is implied, however, that he is in fact quite jealous of her and the attention Gavin gives her.