Gabe LaViolet

Information
Full Name

Gabe LaViolet

Gender

Male

Resides in

Seattle, Washington

Occupation

Student, Singer

Eye Color

Brown

Hair Color

Brunette

School
Affiliations

G's (band)

Portrayed By
Gabe
LaViolet
is a high school rocker who is the in the band The Gs (with Gavin), of which he is the lead singer of his band. He is played by
Atticus Dean Mitchell
.
Personality
Edit
Gabe is a rocker who loves to play music and wants to become famous. When the band's increasing fame goes to his head, tensions rise between him and Gavin as they seek to take the band in different directions. He lets fame get to his head and loses focus of what is really important, desiring only greater fame at the cost of performing music with a message. He gets so caught up in his ego he forgets about his music.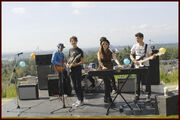 Gabe has been interested in music for a long time and very close with his bandmates. His dream is to become a famous rockstar, a dream that sometimes blinds him from the more important things in life.
When the band's fame increases and becomes more popular it gets into Gabe's head, revealing him to be more calculating in his relationship with the music industry, wanting to make the kind of music that would get them more fans, purely for the popularity. then begins to question his friendship with Gavin, climaxing in Gabe kicking him out of the band.
He is also seen following Radio Rebel's advice. At the end, he goes to the Morp/Prom, during which he made up with Gavin by joining him onstage.
Relationships
Edit
Gabe and Gavin have been very close friends for life. They both are together in the band The G's. Early on, Gabe encourages Gavin to pursue Stacy while hiding his own affection for his friend. Unfortunately, when their band grows in popularity, tensions rise between the two as they struggle to separate their feelings from their visions for the band's future. Both start to question their friendship ... and wonder if it is something more. This culminates in Gavin quitting because he cannot handle Gabe's ego or the latter's dislike of Tara.
She might be a future love interest of him as they are seen dancing together at Morp.
Gabe is very dismissive of Tara and tries to keep Gavin away from her, claiming it is because she's not the type of girl they should associate with. It is implied, however, that he is in fact quite jealous of her and the attention Gavin gives her.
Ad blocker interference detected!
Wikia is a free-to-use site that makes money from advertising. We have a modified experience for viewers using ad blockers

Wikia is not accessible if you've made further modifications. Remove the custom ad blocker rule(s) and the page will load as expected.