Atticus Dean Mitchell (born May 16th, 1993; 20 years old) is a Canadian actor/musician best known for portraying Benny Weir on the teen comedy/drama series My Babysitter's a Vampire. He began his acting career in 2009 with a recurring role as the cyber bully Carlos Martinelli on the YTV series How To Be Indie then landed a role as the high school rocker Gabe in the Disney Channel Movie Radio Rebel.
Atticus Dean Mitchell
600x450px


Born

Atticus Dean Mitchell July 25 1995 (age 17) Toronto, Ontario, Canada

Occupation

Actor, Musician

Years active

2009-present

Role

Gabe
Personal life
Edit
---
Atticus Dean Mitchell was born in Toronto,Ontario,Canada. He grew up in the Toronto's Beaches neighbourhood. Mitchell played rep hockey at the venerable Ted Reeve Arena and attended St. John Elementary School. There he participated in the school's annual plays. He recently graduated from Malvern Collegiate Institute where he was an honour roll student and starred as a dashing Humphrey Bogart in his graduating class's production of 'Play it Again Sam'. A proficient drummer, he and his band, 'the Fishwives', have played a number of prominent Toronto clubs including the Opera House, the Silver Dollar and the El Mocambo. He has been accepted to Ryerson University.
Filmography
Edit
---
| Year | Title | Role | Note |
| --- | --- | --- | --- |
| 2009 | How to be Indie | Carlos Martinelli | Recurring role |
| 2010 | Living in your car | Teenage boy | Minor role |
| 2010 | My Babysitter's a Vampire (movie) | Benny Weir | Lead role |
| 2011-present | My Babysitter's a Vampire (TV series) | Benny Weir | Lead role |
| 2012 | Radio Rebel | Gabe | Lead role |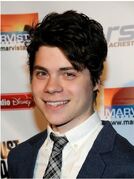 halleu  atticus
Edit
---
Ad blocker interference detected!
Wikia is a free-to-use site that makes money from advertising. We have a modified experience for viewers using ad blockers

Wikia is not accessible if you've made further modifications. Remove the custom ad blocker rule(s) and the page will load as expected.